Create Features for Trimble Android Displays with Trimble Select Digital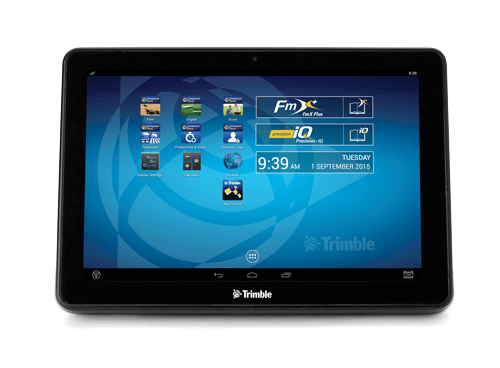 Do you have an idea for an app that enhances precision ag field work? Ever wished you could add some extra functionality to a Trimble display?
Now is your chance with Trimble Select Digital.
Trimble Select Digital is an extension of our Trimble Select program. We are partnering with independent business partners to bring unique, supplemental capabilities to the Trimble Android display family. You can now build extensions that integrate with Precision-IQ to serve your customers' needs. No other ag company provides this level of access to their displays.
This is different from simply adding an app to Trimble App Central for users to download and run on the display. Trimble Select Digital adds custom functionality into Precision-IQ, our proprietary precision ag operating system. That means you can have your app active while also using the guidance and steering as well as flow and application control in the run screen. 
Why Trimble Select Digital
Develop tools to meet the specific needs of your region

Create an additional touchpoint with your customers

Trimble offers more access to our hardware and software than anyone else

Complement field work from the runscreen

Combine GNSS positioning and CANBUS for your unique needs

Leverage the Trimble network to reach potential new customers

Direct access to thousands of precision ag farming operations

Integrate your hardware solutions with Trimble Precision-IQ
What Can You Do with TSD?
These are just a few examples of what you can do with Trimble Select Digital. The possibilities are almost endless. 
Let farmers know technicians are in their area

Conduct your own remote output

Implement downforce applications

Tree planting

Custom counters for anything: distance, product applied, area covered

Meet regional accounting and regulatory requirements

Custom implement control using PIQ field boundaries, AB lines or other landmarks

View or send camera feeds over the network (grain cart, office view, mobile phone)
How It Works
Submit your idea to Trimble Ag

here

Trimble reviews and either accepts or rejects the idea

Partner signs a development agreement with Trimble and receives the Trimble Select Digital developer kit (SDK)

Partner completes development of application

Application is reviewed and approved by Trimble for publishing

App is published and made available for Precision-IQ deployment
Getting Started
Fill out the submission survey here to begin.  
Questions?
Please contact us here. 
Legal Documentation
You can review all legal documents required for Trimble Select Digital by visiting the below pages. All legal documents are available both as downloadable PDFs and a scroll-able web page.
Mutual Non Disclosure Agreement
Mobile Application Distribution Agreement