Integrate with Trimble Ag Software
The Trimble Ag Software solution combines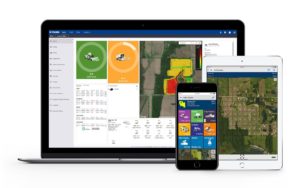 precision farming technology and data into a single place -- giving the grower a total farm management tool to transform real-time field information into better decisions. The grower can further leverage Trimble Ag Software by sharing data with a trusted advisor and creating variable rate application and irrigation prescriptions that control the cost of inputs while also improving crop quality and yield.
As a Web-based solution, Trimble Ag Software integrates data from multiple precision farming technologies so growers can easily view information from field activities such as planting, spraying or harvesting – without needing to physically visit each field or hand compile information. Data from a wide range of machine makes and models combined with commodity markets data, weather forecasts, and irrigation monitoring, offers growers an easy-to-use platform for total farm management. Growers can access the integrated data ­­using any Web-enabled device such as a smartphone, tablet or PC.
The Ag Developer Network enables customers and developers to engage with the Trimble Ag Software Application Program Interfaces (APIs) - including details on previous integration efforts and applying for data sharing access with the Trimble Ag Software applications. Third party developers can use the APIs to send data files between their applications and Trimble Ag Software, including prescription files, as-applied maps, boundaries and other precision farming data.